Angela Eve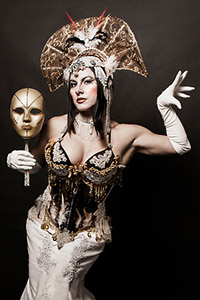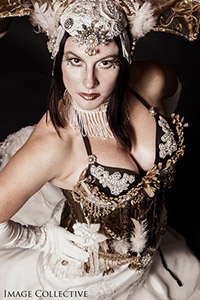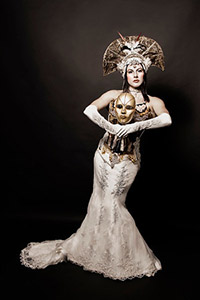 " Angela Eve, a frequent national and local headliner, can make even jaded habitués of the cabaret scene shriek with delight as she nails breathtaking splits and aerial acrobatics like an Olympian."
Robert Buscemi - Chicago Magazine
" Angela Eve really took her Burlesque performance to a new level, and her heart came through in every movement, in every position. With a rock-star intensity she impressed us, she aroused us, she inspired us. " Barmey Ung - Lumino Magazine
"Angela Eve, one of the top pioneers of the burlesque revival in Chicago" John Owen - Chicago Tribune
"Angela Eve and Eve's Parlor Hotel Chelsea show seemed adamant, even stubborn in showing Burlesque as performance art." Lumino Magazine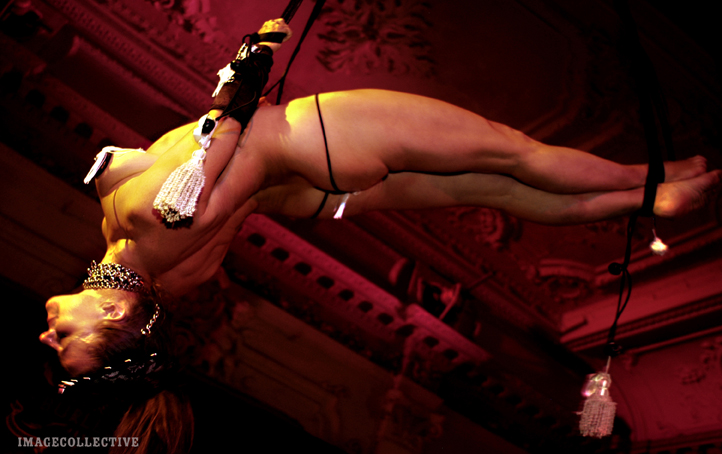 Angela Eve a multidisciplinary artist, burlesque headliner, producer, set and costume designer, photographer and visual artist. Angela Eves performance combines the finest elements of erotic dance, visual arts, burlesque steeped in tradition, and aerial finesse to create a virtuoso performance art extravaganza. Influenced by retro-style circus and sideshow revues, her expertise in visual multi-media art is reflected in her elaborately designed sets and intricate costumes, creating a decorative landscape.
She is a well-known local performer, Visual artist and photographer in Chicago and known for her elaborate large-scale productions (Dead Man's Hand Ball 2011, The Chelsea Hotel Show 2010, The Elysian Ball 2009, Chicago's First Burlesque Festival: Twisted Tassel in 2008……) and started her burlesque troupe in 2003 Eve's Parlor and production company Image Collective.
She travels regularly for her solo features and has headlined abroad for international shows such as: October 2010 in northern Italy headliner for Le Corte Burlesque Ball and several other club related events in Italy, November 2008 and 2009 special guest international feature at The Dublin Burlesque Ball in Ireland and featured at The Holiday Burlesque Revue in London in 2008, For the first two years of the London Burlesque Fest she was a featured international act.
Angela Eve's solo performance was rated by the national publication Chicago Magazine as one of the top 3 burlesque shows to see and Chicago Reader's Best of 2010 Angela Eve and Eve's Parlor was in the top 3 burlesque shows in the City.
She is a guest feature with Fleur de Tease and The Burlesque Ball Room with Trixie Minx in New Orleans and headlines several seasonal events in New Orleans and has been a burlesque feature with Playboy's online showcase of Mardi Grasi. Four years running she has also been a special headlining feature act for the Contemporary Arts Center in New Orleans annual show " Bourbon and Burlesque" the largest show in New Orleans specifically featuring the best of New Orleans Burlesque performers and troupe's.
Image Collective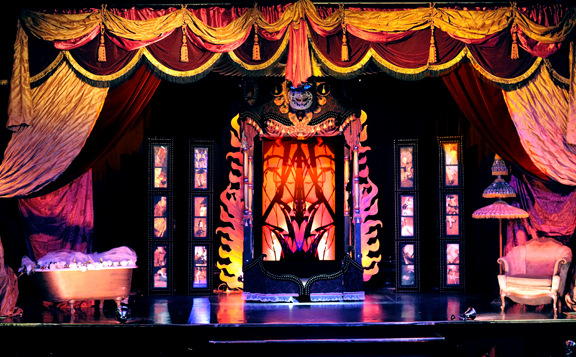 Image Collective the art production company started with Angela Eve and her partner Anastasios Ketsios includes several other artist such as: Sonya Siedlaczek, Eli Grove, Pat Vass and Mike O'Connor. Together they have created some of their most cutting edge shows. Annual for The Contemporary Arts Center event "Bourbon and Burlesque" in a museum atmosphere they create large scale found object and collected artifacts from New Orleans volatile past to create a platform for Angela Eve and Eve's Parlor performances.
"The Traveling Elysian Carnal Menagerie" 2010 CAC and The Odyssey of Bebe Marie" 2011 CAC have become truly one of a kind experiences for The Contemporary Arts Center combining art and burlesque. The Joan Mitchell Arts Foundation had their show featured for the closing event of their painting collection. The concepts of these performance Installations were born from Eve and Anastasios Ketsios 4-year photography project on post Katrina they published in 2009 www.homethiswas.com
They have worked on a variety of many groundbreaking art/burlesque events. They created a speak easy outdoor stage for burlesque/circus and erotic arts at "Rothbury" a major outdoor Music Festival in The Midwest that drew over 50,000 people. The Elysian Ball one of their projects including producer Christophe Gauspohl transformed a 10,000 sq. ft. loft space in Chicago's West Loop into a circus-like environment combining visual art with burlesque and highlighted over 30 acts and drew over 400 people. In the spring of 2008 Angela Eve founded Chicago's first burlesque festival "Twisted Tassel Burlesque Festival" co-produced with Flesh Tones Burlesque and Image Collective. Twisted Tassel was a full-fledged burlesque celebration that encompasses five weeks and featured over eighty acts Locally and across the nation, selling out most dates. They have also created festival shows for Ozzfest a major touring music festival and Angela Eve with has toured through almost every state in the US.
Eve's Parlor, Angela Eve and Image collective productions have been featured by many major publications: Rolling Stones, USA Today, Time Out Chicago and London, Chicago Tribune, Cover of Chicago Reader Arts section, National Public Radio, Chicago Magazine, The Irish Examiner, The Gambit in New Orleans, Inside NOLA, Best of NOLA. Fangoria Magazine, LA Times, Hollywood Today and Fox News featured Angela Eve for her exhilarating performance at Vampire Con in Los Angeles as Vampirella the comic book vampire vixen.
Press:
Last year's Dead Man's Hand Ball Time-out plug
Angela Eve and Image Collective press links to a short collection of past events
Chicago Tribune Covers Chicago's First Burlesque Fest " Angela Eve's Twisted Tassel Fest
Angela Eve and Image Collective performance:
"The Traveling Elysian Carnal Menagerie"
Other Production Links:
Angela Eve's Twisted Tassle Fest: Elysian Ball